The Allegheny Front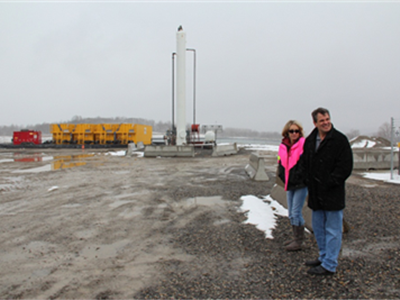 Kathy and Guy Avolio of Avella, Pa. say their Marcellus shale well is safe. 'We have to try to get this,' Kathy says. Photo: Reid R. Frazier/The Allegheny Front
Reporter's Notebook: Shale and Public Health
by Reid R. Frazier

I'm the Marcellus shale reporter for the Allegheny Front. Putting together any story on Marcellus shale for the radio is a balancing act—I've got to weigh claims made by supporters and opponents of the industry. One of the most important questions about shale gas extraction is whether this intensive form of drilling, known as hydraulic fracturing, or fracking, can be detrimental to public health.

To answer this question, I looked at scientific papers on the subject. Some of these papers document alarming examples of health impacts: animals dropping dead, children with arsenic poisoning, people near wells with headaches, dizziness, and fatigue. How do we know these effects were caused by drilling? And how widespread are these impacts? Are these outliers?

I talked with several scientists who wrote these studies. I looked for local doctors who may have come into contact with people who were sick, or who lived near wells. I talked to people near wells who'd gotten sick, as well as those that did not. I talked to a doctor who thought the drilling in his community was making the town a better place to live. And a doctor who'd seen patients with strange skin reactions.

Questions emerged: Will science and government move swiftly enough to keep pace with this growing industry? Who will pay to study the health effects of the drilling? How will politics and economics affect the scientific study of this industry?
We will keep a close watch on this issue and these questions. And we'll let you know what we find out.
Listen to Reid's story: Amid Shale Rush, Trying to Answer Health Questions
The story we produced aired across the state, West Virginia and will soon air nationally on Living on Earth.