The Allegheny Front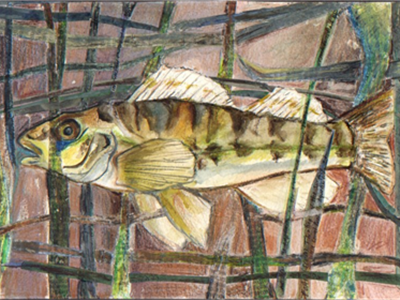 LogPerch by Nicole Sarver is part of the exhibit - Reflections: Homage to Dunkard Creek. Courtesy of Mountain Institute.
Reporter's Notebook: How Do You Bring Back a Dead Creek?
by Ann Murray
Recently, I produced a story about artists that paid homage to animals that died in an ecological disaster in Dunkard Creek. My followup story, "Bringing Back Dunkard's Critters" looks at restoring the creek's inhabitants.

In September of 2009, a toxic algae bloom killed tens of thousands of fish, mussels, salamanders and crayfish in Dunkard Creek, a 43-mile-long creek that crisscrosses its way along the border of West Virginia and Pennsylvania. Even with sections of the creek suffering from acid mine drainage, Dunkard was considered to be one of the most biologically diverse creeks in our region.

West Virginia has a head start on bringing back aquatic life to Dunkard. The state Department of Natural Resources has accepted a half-million dollars from Consol Energy. Consol owns a coal mine that discharged high levels of chlorine into Dunkard blamed for the algae bloom. The West Virginia agency has come up with a restoration plan to try to revive fish, mudpuppy and mussel populations. The Pennsylvania Fish and Boat Commission is in the process of suing Consol.

Dunkard is a great example of the interconnectedness of an ecosystem and the difficulty of bringing back a polluted creek. Biologists can't just pick up a few mussels from nearby streams and hope they reproduce. Scientists have to reintroduce fish species to help the mussels get their babies into the aquatic world. Fish act as hosts, sort of scaley incubators--for mussel infants (called glochidia) to change into juvenile mussels. Most of the 17 mussels that were once in Dunkard use specific fish species in this cycle. A few are generalists and one mussel uses a salamander called a mudpuppy to reproduce. Mudpuppy populations were wiped out in the disaster so they have to be restored before salamander mussels can come back.

Water quality is better in Dunkard Creek today. Pennsylvania has legislated tougher standards for chlorine and other pollutants but West Virginia has not. Activists I've talked to say Dunkard is a poster child for collective inattention. That is, they say that agencies and citizens just weren't paying enough attention to the waterways in their backyards. Now, they say, everyone has to pay the price to bring back a once vibrant home for all kinds of critters and our supply of water.

I recently reported on an exhibit that features works of art paying homage to the species lost in Dunkard Creek. The exhibit, Reflections: Homage to Dunkard Creek, will be in Pittsburgh in June at the Art Institute of Pittsburgh.