Oakland Girls Choir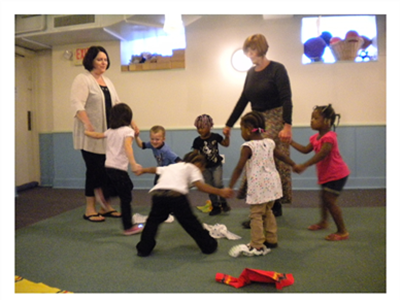 Angels' Place class
Northside Outreach: Start Them Young!
Written by Stephanie Cullen of Angels' Place Northside

"Miss Kathy is coming today!" a teacher announces over breakfast at Angels' Place. A chorus of cheers and excited hand claps erupts as the children's faces light up with smiles. Music class with "Miss Kathy" (Kathryn Barnard) is a favorite with all the children – infants, toddlers, and preschoolers.

As the children enter the "music" room, many run to greet Kathryn with hugs. Each child knows to find a seat on a mat so that the fun can begin! For the next 45 minutes, Kathryn leads the children through a well-planned, developmentally appropriate music and movement class. The children have a great time making music together, and in the process, they learn about themselves and each other. As the little ones participate in singing, playing instruments, dancing, exploring tempo and rhythm, etc., they are developing many important skills. While the children are developing a love of music, they are also growing physically, emotionally, socially, and cognitively.

We are very grateful to Kathryn Barnard, the Oakland Girls Choir, and the Heinz Endowments for making these very special Wednesday morning classes possible. In closing, I want to share an encounter I had with one of our toddlers, who came over to me holding a block to her mouth like a microphone. "I'm Miss Kathy," she said. "Say Doo Di Di Doo!" she sang, as she pointed the block toward me, imitating a musical activity that takes place each week during class – pretty awesome for a two-year-old! The classes are clearly developing her skills in listening, auditory discrimination, taking turns, following directions – and singing!
Photos