East Liberty Development Inc.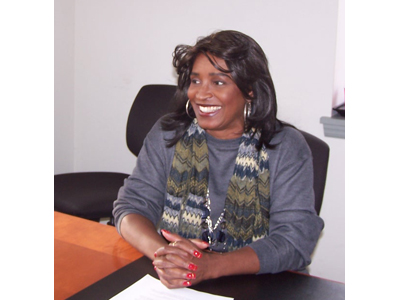 Maelene Myers, Executive Director, East Liberty Development Inc.
Q & A with Maelene Myers
By Carmen J. Lee
Endowments Communications Officer

For more than 30 years, East Liberty Development Inc. has been committed to reversing the impact of failed urban renewal in that Pittsburgh community and revitalizing the local business district and neighborhoods. Executive Director Maelene Myers describes the nonprofit organization's recent achievements and its vision for a more prosperous East Liberty.

Q: What has been your organization's biggest triumph of the past year?

A: The opening of the new Target Store in East Liberty was by far our biggest success last year. The opening of this store involved more than five years of community planning and organizing. The store is located at the site of a former high-rise that required the relocation of the tenants, the construction of new housing units and the conversion of Penn Circle back to two-way traffic. We worked with the general contractor during construction to help create more than 100 construction jobs with more than 40 percent minority participation. The opening of the store created 268 permanent jobs, and 116 of these jobs were filled by residents of the East End.

Q: What has been the biggest trial?

A: We spent considerable time last year engaged in discussions regarding how to insulate our community organizing and neighborhood advocacy efforts from the legal and financial risks associated with our real estate development activities. After considerable review, we decided to spin off our real estate development activities into a separate limited liability company, ELDI Real Estate LLC. ELDI will be the single member of the LLC and will thereby retain full control over the actions of this entity. Also, current employees will still run the real estate operation. This separation will allow ELDI to better focus staff time and resources to our organizing and advocacy activities.

The discussions we had regarding our organization structure came about in large part as a result of talks we had regarding how we did our work and what were our keys to success. We were forced to recognize that we could not and did not do everything well and that we would need to target our staff time and resources to those activities which were part of our core mission. It was difficult to have to admit that there were important activities such as workforce and public education that were not in our core competencies, but that helped us recognize that our strength was in planning, advocacy, facilitation and investment. At the same time, we knew that we could bring partners along to do the other things that are important to the community. We came to embrace this as our "PAFI" model of community development.

Q: What issue or event has had the most impact – positive or negative – on your organization in the past year and how have you responded?

A: The downturn of the economy has certainly had an impact on our organization and threatened all of our developments. We were nimble enough to respond accordingly to minimize our speculative developments and provided more rental units.


Q: What new initiatives have been started?

A: This year, ELDI will target our organizing and advocacy activities into six key areas: Larimer Avenue corridor planning, Town Square improvements, creation of a parking district, circulation and mobility planning, the East End Transit Revitalization Investment District and community engagement.

Our real estate company will focus on completing two transformative developments in our commercial core: Ace Hotel and Odeon Theater. Ace Hotel is the conversion of the vacant YMCA building into a boutique hotel, and Odeon Theater will be a multi-screen digital theater with full-service restaurant and upper floor office space in the former PNC Bank building and storefronts along Penn Avenue.

Q: As head of this organization, what goals do you have for it in the next year?

A: Our goal is to stay true to our PAFI model and focus 80 percent of our time and resources to our seven goals outlined above, which include the real estate development. In order to be successful, we will need to stay focused on our primary goals – and not get distracted by other issues. In order words, we will, at times, have to say no. Workforce and public education are important issues to our community, but ELDI does not have the core competencies to address these issues. By utilizing our PAFI model, we can help advocate for these issues, but will need a partner organization to take the lead.

Q: So if your organization were a person, what type of personality would you say it had?

A: Entrepreneurial with a roll up the sleeves mentality. ELDI has always tried to be cutting edge and a model for implementing new ideas and strategies.


Q: What's one of the biggest misconceptions about your organization?

A: The biggest misconception of ELDI is that we do "everything" and that we have developed all of the commercial boxes along Centre Avenue. ELDI has helped advocate and facilitate all of these developments, but it was our partners who actually did the development. These partners include large corporations, such as The Mosites Company, The Community Builders and McCormack Barron Salazar, as well as smaller partners such as Blaiser Urban, Sojourner House, The Kingsley Association and East End Cooperative Ministry. We have also recently partnered with small contractors doing construction and rehabilitation of single family homes.


Q: Can you share a short story about an incident or event that illustrates the impact you believe your organization is having on your local community or the region?

A: Part of our neighborhood stabilization strategy is to build a spectrum of housing opportunities – market-rate and subsidized, homeownership and rental. A sustainable, diverse community needs to have a variety of housing options. One such option is to provide affordable homeownership opportunities to lower-income households. We have been able to accomplish this by partnering with Michael Stanton of Open Hand Ministries to offer financial, maintenance and other assistance. Open Hand has the ability and experience to provide long-term guidance and support to lower-income families moving into homeownership.


Q: Could you share a short story about an individual's experience that captures what your organization is meant to be to the community?

A: Many existing residents are now benefiting from the revitalization of East Liberty as increases in property values have resulted in an increase in home equity. For example, we have been able to coordinate the availability of market rate new homes, affordable rental units and home repair loans to existing homeowners. As a result of these targeted activities, long-time homeowners who for years had little if any home equity, now enjoy the benefits of having $50,000 in home equity.
Another illustration of this process involves a case in which ELDI and Open Hand Ministries renovated and sold a home to a single mother with two teenage daughters. The family purchased a home for $60,000, and their monthly costs are lower than the rent they were paying. ELDI also ensured that the home would appreciate in value. We built a new house next to her home that sold for $300,000 and renovated another home that sold for $140,000. The family now has $60,000 in home equity that will continue to grow over time. One of the single mother's daughters recently had a baby, so now the home provides a safe and affordable place for the mother and grandmother to raise the child. This child will grow up with children from all different income levels, and will not experience the housing instability that typically afflicts the children of single parents. ELDI develops affordable and market rate homes on the same blocks so that homeownership can break the bonds of generational poverty.

Photos