Christian Evangelistic Economic Development (CEED)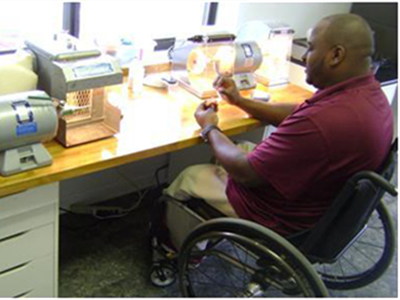 Wakike Jones at Urgent Denture Repair
CEED Client Profile: Urgent Denture Repair
Urgent Denture Repair Laboratory is a denture repair facility owned by Wakike Jones, a minority business owner who previously suffered a T4 spinal cord injury that has assigned him to a wheelchair.

CEED assisted Urgent Denture Repair in developing a comprehensive business plan, including target market research, which has allowed Wakike to better implement sales tactics and receive a higher return on advertisement investment. Other services received include accounting and tax law assistance.

Urgent Denture Repair is located at 1201 Broughton Road in South Park. Phone 412-714-8157 Website www.urgentdenturerepair.net.
Photos