Schenley Heights Community Development Program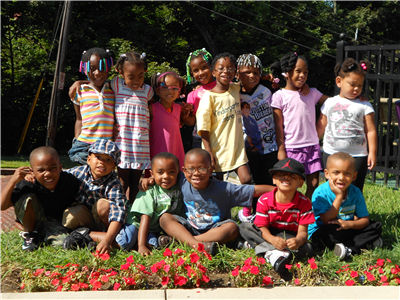 2011 Pre-School Summer Program
Pre-School Program's Fun in the Sun
During the Preschool Summer Enrichment Program, children explored many things, both inside and outside of the classroom. Children participated in math, writing, reading and art activities on a daily basis. Computer time was also scheduled into the program.
The many activities children participated in this summer included gardening, library trips, computer time, art fun, science fun, and water play. Children were engaged in physical activity on a daily basis in the forms of outdoor play as well as exercises and movement activities within the classroom.
Teachers made the classroom a mixture of learning and interaction. Children were allowed to play with the plethora of toys available to them and play games suitable for classroom context. Alongside the play were activities such as art projects that engaged the children's minds and helped with motor skills. Visitors from the Police Department and Fire Department came to the classroom and gave presentations on safety issues, such as gun and fire safety.
Several field trips to local educational facilities took place this summer, including the Carnegie Science Center and Sports Works, the Children's Museum, Theatre in South Park and the Aviary to give children the opportunity to explore the different areas of fun and learning.
2 Comments
Report Abuse
Laurie Moser
Schenley Heights continues to shine in providing quality services to neighborhood children.
Report Abuse
M Washington
Just seeing all of these happy, smiling faces has truly helped to brighten my day!